Your Return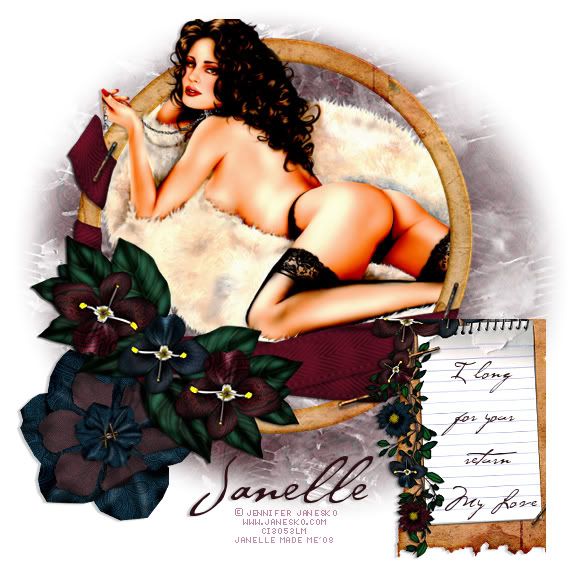 Supplies Needed:
PSP- I used X but will work in any version
1 Tube of Choice
Font of choice I used P22 Cezanne Regular, it's a paid font so I cannot share, sorry.
Scrap kit Twilight here by Lisa of Sophisticated scraps
Mask is by Chelle of weescotslass I used mask 60. Go to her site to see all
her awesome freebies.
(Thank you Chelle!)
Supplies here
I used the Artwork of Jennifer Janesko.
You will need to purchase a license to use here work and can be purchased here.
Okay let's get started
This will be a quick and easy one.
Open a new image 600x600 (we can resize later)
Open the Scrap Kit in PSP and choose a round frame of choice, I used
Frame2. Also choose a paper.
Open your tube, and the mask.
Open any extra doodles or embellishments of choice if you would like to
use them, I used Flower1 and Jornalling Block.
Layers, new raster layer, floodfill with white.
Edit copy, edit paste your frame as new layer.
Resize by about 75%.
Layers, new raster layer.
Edit copy, edit paste a paper of choice.
Layers new mask layer, from image, find WSL_Mask 60.
Source Luminance Checked, Invert mask data, unchecked, OK
Merge Group
Move this layer under your frame layer.
Resize by 90%. Right click on the layers Duplicate, Image Flip, and
position both to your liking.(use my tag for guidance)
Edit copy, Edit paste your tube as a new layer.
Resize to suit.
Position the tube to your liking,
Keep in mind if you would like the tube to overlap with the frame.
At this point I duplicated my frame and had one frame below my tube
and 1 frame above my tube, and just erased parts of the top frame to
show the tube.
Once happy add a drop shadow to the tube and to the frame layer below your tube.
Merged these 3 layers together, Frame, Tube, Frame).
Edit copy edit paste the Journal block as a new layer, resize to your liking.
Position where suitable.
Add some wording of choice.
Now is the time to add any flowers, embellishments, ribbons, brushes etc.
Add all appropriate copywrite information, and your name.
Once happy with your creation
Resize all layers to your liking
and your done.
Hope you enjoyed my tutorial
Here is another version of the same tut.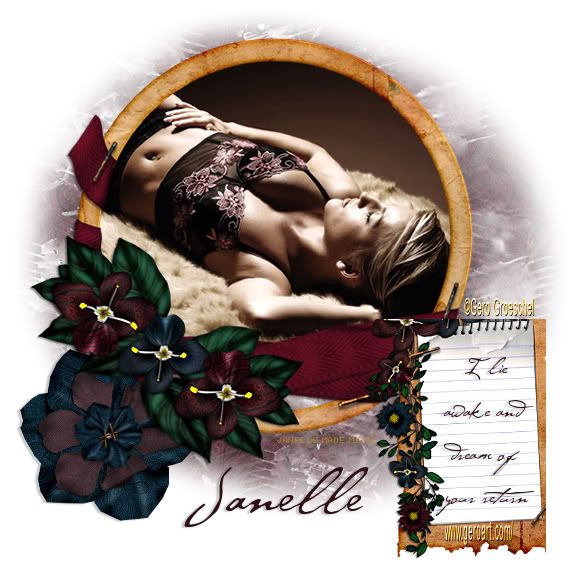 Layout and Tutorial ©Janelle written on February 18th, 2008.
Any similarities to this tutorial are purely coincidental & unintentional.
Registered with Tutorial Writers Inc.