Where Dreams Take You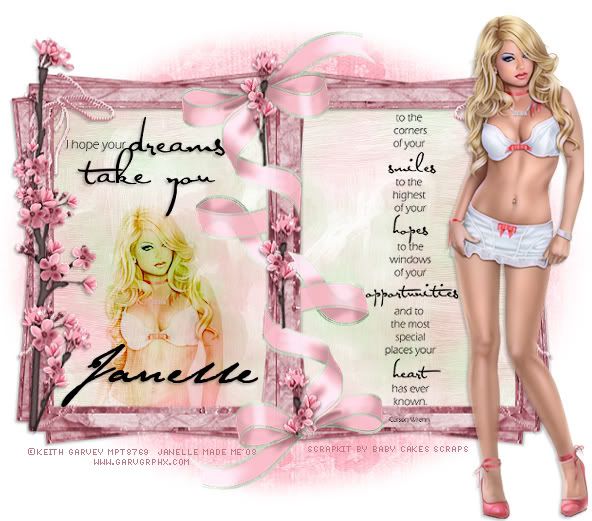 Supplies Needed

PSP- I used X but will work in any version
PluginsXero Filter
1 Tube of choice I used the Artwork of Keith Garvey.
You will need to purchase a license to use his work and can be
purchased here from MPT
Font of choice I used SecretScrypt(pay for font, so cannot provide)
Scrap Kit is called Sweet Nothings made by Lynne at Baby Cakes Scraps
download it here
Mask- 12-Rachel'06 Please check out her site here
(Thanks Rachel!)
Word Art by Bethany at Elegant Word Art

Okay let's get started

Open a new image 600x600 (we can resize later)
Open your tube, mask, cherry blossum,paper, frame and ribbon of choice
and any extra embellishments you wish to use.
I used paper4 for the mask, and paper1 for the backround of the frame.
Layers, new raster layer floodfill with white.
Paste paper of choice as a new layer, resize by 75%.
New mask layer from Image, find Mask- 12-Rachel'06
Source Luminance checked, Invert Mask data checked, OK.
Merge Group. Resize this mask by 73%.
Add your frame as new layer, I resized mine by 80%.
Add a drop shadow.
Image mirror, If using the pink frame leave the frame were it sits.
If using the blue frame, you will need to resize them again by 90%.
Once happy with their positions, close off all layers except the frames
and merge visible. Unhide all layers.
Back on your mask layer, use your pick tool to stretch the mask out a
little on either side.
Paste another paper of choice as a new layer, resize by 70%.
On your Frame layer, use your magic tool and click inside the middle of
the frames.
Selections, modify, expand by 3, OK.
Selections Invert, back on your paper layer hit Delete on your
keyboard, select none.
Add your ribbon, and resize to your liking,
using your Eraser Tool, erase parts of the ribbon so it looks like the
ribbon wraps around the frame,
add a drop shadow, duplicate and flip.
I then duplicated each ribbon so they were a little stronger.
Once happy with the positions, hide all layers except the ribbons and
merge visible.
Unhide all layers.
Add the Cherry Blossoms and resize and position were suitable. Add
parts of the Blossom to the middle of the tag.
Copy and paste your tube as a new layer position where suitable, add a
drop shadow of choice.
Once happy with its position, add the filter Xero- Porcelain, settings,
Softness 50
Strength 128
Brightness 128
Red Chanel 0
Green Chanel 0
Blue Chanel 255
OK
Duplicate this layer and resize move it to the oposite side of the tag
and position were suitable.
Once happy with the position change the opacity mode to Burn.
On the second tag I changed the opacity to Soft Light.
Add your WordArt or wordart of choice and position to your liking.
Add any extra embellishments of choice
Add all appropriate copywrite information, and your name.
Once happy with your creation,resize all layers to your liking
and your done. Save your tag.

Hope you enjoyed my tutorial
Here is another version of the same tut.
I used the Wonderful Artwork of Suzanne Woolcott, you will need a
license to use her work and can be purchased from here.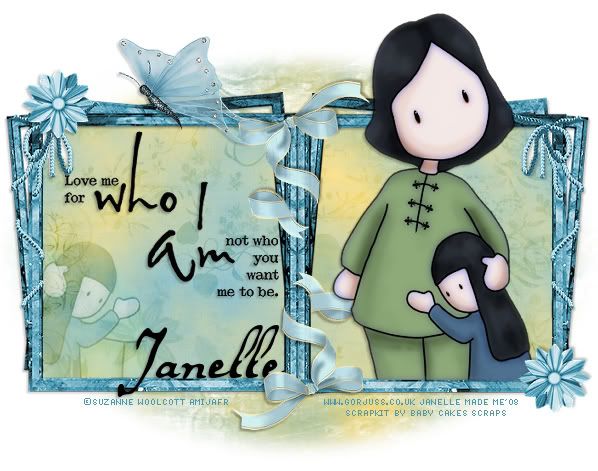 Layout and Tutorial ©Janelle written on June 1st, 2008.
Any similarities to this tutorial are purely coincidental & unintentional.
Registered with Tutorial Writers Inc.