My Ballet Boots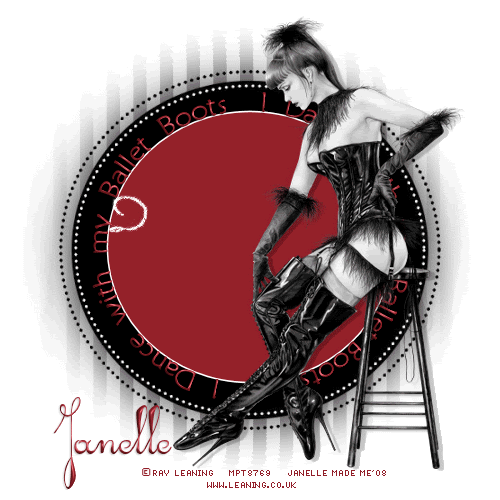 Supplies Needed

1 tube of choice. I used the Artwork of Ray Leaning.
You will need to purchase a license to use his work and can be
purchased here from MPT.
PSP- I used X but will work in any version
1 Tube of Choice
Font of choice
Mask is by Simone (SophisticatSimone) please visit her site here
All other supplies made by me, please dont share or claim as your own.
Supplies Here
Okay let's get started

Open a new image 500x500 open your tube, and the mask.
And open the circles.
Open any extra embellishments and ribbons of choice if you would like
to use them.
Layers, new raster layer floodfill with white.
Layers, new raster layer floodfill with black.
Layers, new mask layer from image
And find SophisticatSimone_Mask9
Source luminance checked, Invert mask data, unchecked, OK
Layers, Merge, Merge Group.
Edit copy Edit paste your choice of either circle 1 or circle 2.
If you are using circle 2 you will need to resize by 65%.
Edit copy, edit paste Ballet Boots words as a new layer.
If you would like to make up your own words you will need to go
Layers, new raster layer, find your eclipse tool, and draw out a circle
roughly the size of the red circle.
It dosent matter what the colours are as we will delete it later.
You can resize it using the pick tool.
Then layers, new raster layer, find your text tool, and hover over the
circle you jst made until the text turns into a curved symbol.
Left click your mouse and start typing your words, once happly press apply.
Close off or delete the circle layer.
Edit copy, edit paste your tube as new layer.
Place where suitable, but if you are using the words you will need to
leave room for that.
Add a drop shadow of choice.
Now is the time to add any flowers, embellishments, ribbons, brushes etc
Resize to your liking and your nearly done.
Add all appropriate copywrite information, and your name.
Once happy with your creation resize all layers to your liking
and your done.
You may choose to keep your tag like this or you may read on for animation.
Now for Animation

Open up Animation Shop,
Now back in PSP, Edit, Copy Merged your finished Tag, Edit paste in AS
Open the wording of choice, notice the amount of frames it has.
Back on your tag in AS, right click, duplicate selected, until you have
the same amount of frames as the wording.
Edit select all.
Then on your wording, edit select all
Back to your tag, make sure you are at the begginning of the frames,
now click on the wordings first frame and holding down your mouse drag
the word into position on your tag.
Once Happy Save your finished tag and your done.

Hope you enjoyed my tutorial
Here is another version of the same tut.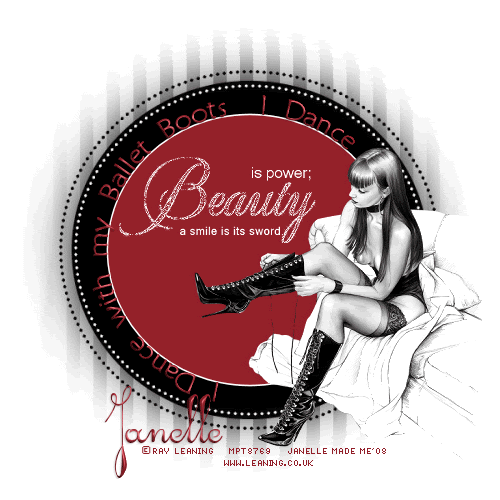 Layout and Tutorial ©Janelle written on January 20th 2008.
Any similarities to this tutorial are purely coincidental & unintentional.
Registered with Tutorial Writers Inc.