Alive With Colour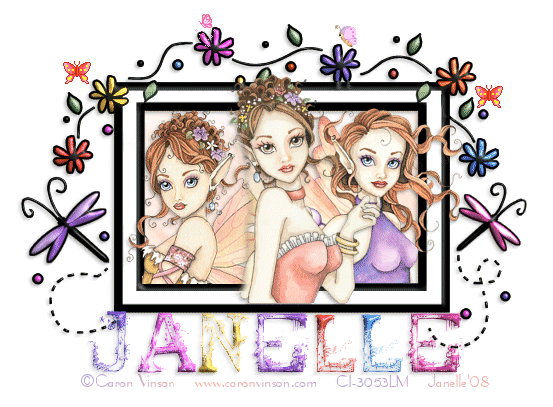 Supplies Needed:

PSP- I used X but will work in any version
3 Tubes of Choice. I used the Artwork of Caron Vinson. You will need to purchase a license to use her work
and it can be purchased here from CILM.
Font of choice I used Abusive_Pencil can be downloaded here
Doodle Frame from Lori M please visit the site Doodles from My Noodle here
Animations found here

Okay let's get started

This will be a very quick tut

Open a new image 600x600 (we can resize later)
Open your tubes and Doodle Frame. Open your animations of choice.
Layers, new raster layer floodfill with white.
Edit copy, edit paste the flower doodle as a new layer
Position to your liking on the tag.
Selections select all, selections float, selections defloat.
Effects, 3D effects, Inner Bevel
Settings Bevel #2, width 10,
Smoothness 17, Depth 6, Ambience 6, Shininess 28
Colour White, Angle 45, Intensity 25, Elevation 64, OK
Repeat this Step
Now add a Drop Shadow, I used 2, -2, 30, 5 colour Black, selections, select none.
Edit copy, edit paste each tube as a new layer and position were suitable.
You can either have them under or over your tube depending on your tube of choice.
Using your selection tool delete any parts of the tubes you dont want
out of your frame.
Add all appropriate Copywrite information, and your name.
Once happy with your creation resize all layers to your liking and your done.
Save your tag.
You may now take it to Animation Shop if you are adding any little animations
Right click duplicate selected until you have the same amount as the
animation you are using.
On your tag select all, then on your Animation select all,
Put the cursor on the first frame of the animation and hold and drag it
into position on the first frame of your tag.
Repeat with all animations, once happy save and enjoy.

Hope you enjoyed my tutorial

Here is another version of the same tut.


Layout and Tutorial ©Janelle written on April 3rd,2008.
Any similarities to this tutorial are purely coincidental & unintentional.
Registered with Tutorial Writers Inc.