Wax Works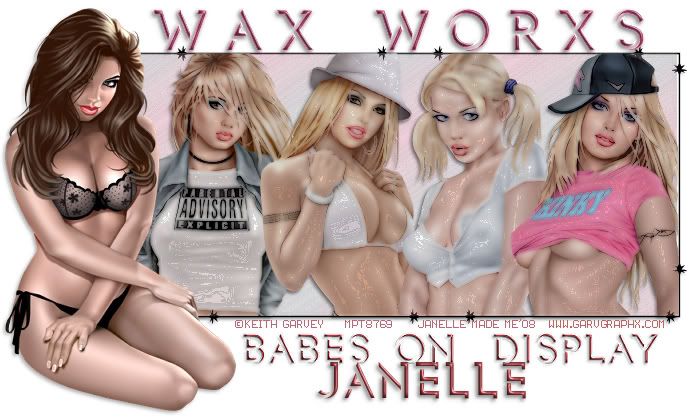 Supplies needed:

PSP - I used PSPX but will work in any version.
4-5 Tubes of Choice I used the artwork of Keith Garvey.
You will need a Licence to use his work and can be purchased here.
Font of Choice I used Eclipse
Okay Lets get started

Open a New Image 600x600 (we can resize later)
Open your tubes
Layers, new raster layer, floodfill with white.
Layers, new raster layer, using your Rectangle tool.
Foreground Black, Background White.
H,V-0 Line Style Barbed Wire, Width 2
Draw out a rectangle large enough to nearly fill the top of the tag,
look at my tag for reference.
Right click in your palettes and convert to raster layer.
Copy and paste all your tubes and arrange inside the frame to your liking.
Once happy, back on your frame layer, using your magic wand, select inside the frame
Selections, Invert, now back on your tube layers, hit delete on the
keyboard for each tubelayer.
Merge the tube layers together and duplicate
On the original layer, Effects, Artistic effects, Contours and
use these settings:
Luminance 30, Blur 8, Detail 90, Intensity 15, Colour Black, OK.
On the duplicate layer change the exposure to darken.
Add a drop shadow of choice I used 2, -2, 30, 5 Colour Black.
Using your Selection Tool, make a rectangle the same size as your frame layer.
Layers new raster layer
Choose two colours from your tubes, 1 for foreground 1 for background,
now change the foreground to gradient.
Settings, Angle 145, Repeats 6, Style first one, OK
Effects, Artistic Effects, Contours, same settings as above.
Change the opacity of this layer to 40.
You can either finish your tag now or add another tube to the edge of
the frame, like I did with mine.
Add all appropriate Names and copywrite info.
Once happy with your creation resize all layers to your liking and your done.
Hope you enjoyed my tutorial

Here is another version of the same tut.


Layout and Tutorial ©Janelle written on April 4th, 2008.
Any similarities to this tutorial are purely coincidental & unintentional.
Registered with Tutorial Writers Inc.